Forest horse riding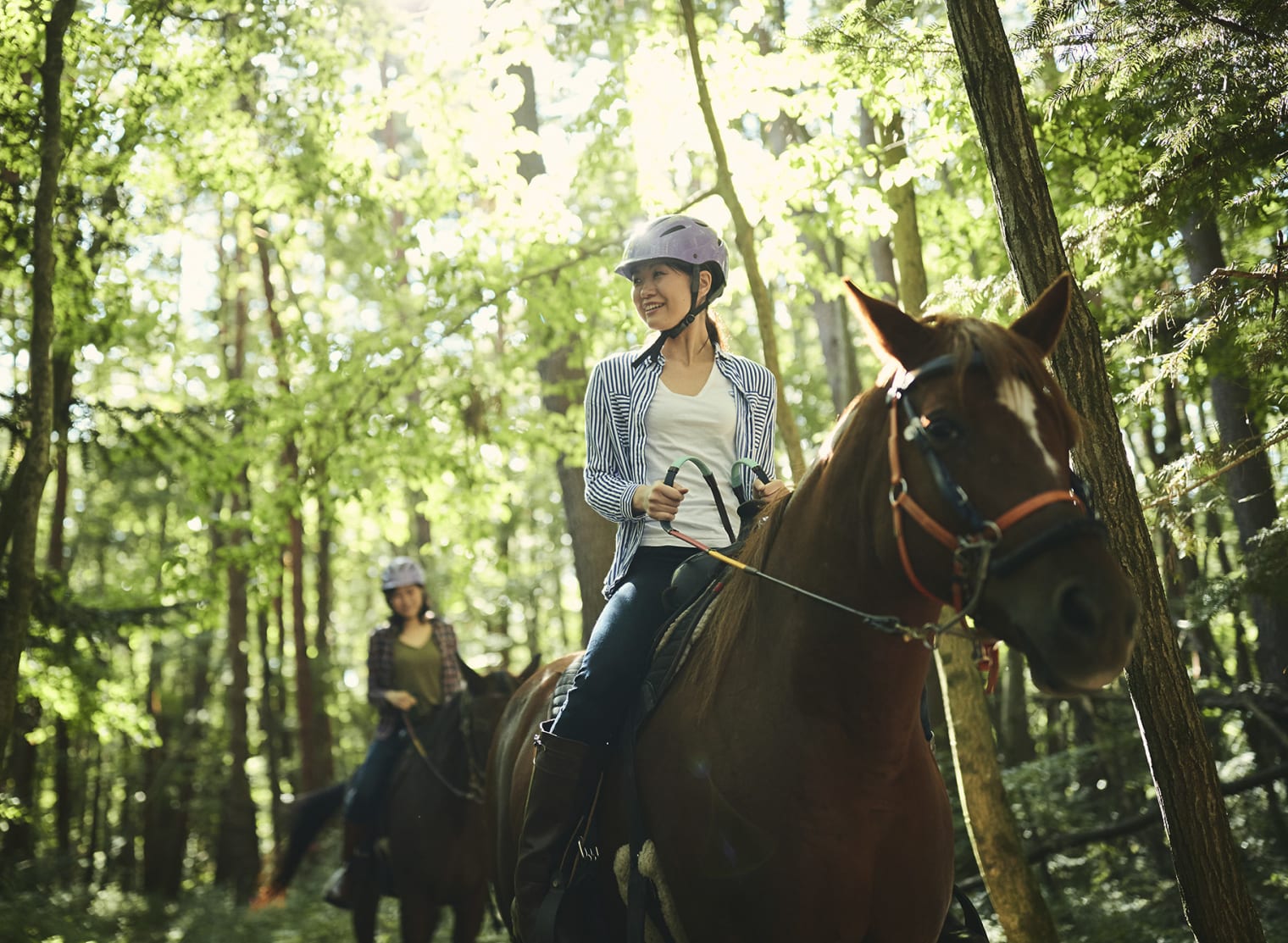 Kobuchizawa Town is known as "the town of horses". Even if you are new to horseback riding, you can easily enjoy it. Sway on the back of a horse and enjoy the scenery.
Forest horse riding
Period

– Sun, Mar 31, 2024

*Excluding all closed days Closed: Tuesday

Time
Appropriate age

6 years or older

Price

60 min : ¥14,400 (First grade to adults)

90 min : ¥16,000

* From November 1, 2023 - Mar 31, 2023 (3rd grade and adults)

90 min : ¥17,500

* From April 1, 2023 - (3rd grade and adults)

Capacity

4 ~ 6 people each time * Depends on the time of year

Meeting spot

Transportation: Front lobby (meet 30 minutes before the appointment time)

Private car: Canadian Camp Yatsugatake (MAP) (meet 30 minutes before the appointment time)

Belongings

Long sleeves / long pants/athletic shoes

* In summer, participants can wear short sleeves.

* It's chilly from November to March, so dress warmly when you attend.

Schedule

At the horse riding club (Canadian Camp)

1. Meetup, sign in (10 min)

2. Riding ground lesson (30 min)

3. Outside riding

 60 minutes course 30 minutes

 90 minutes course 60 minutes

4. End of experience (15 minutes)

Hosted in

Japanese

Reservation

Web reservation (by 5:00 pm the third day prior)

*The reservation is not fixed when you apply.

We will contact you within 3 business days after checking the reservation status.

Notes

・This is a guest limited program.

・If only children under 15 years old can experience it, a guardian must accompany them. (Please wait at the site from the beginning to the end of horseback riding)

・Only participants can ride in the courtesy car. (However, if only a child under 15 years old goes horseback riding, only 1 parent can ride with a courtesy car.)

・Only those who weigh less than 90 kg.

・This is a horse riding experience for beginners. Experienced riders can also go fast.

・It takes about 10 minutes each way by car.

・We don't accept outside passengers.

・There is a rest house on site. (No food or drink sales, etc.)

■Cancellation policy

14 days - 3 days prior: 10% of total fee

2 days prior - the day of activity: 100% of total fee
See dates
Log in to the "Confirmation" page is required.